About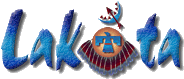 The Name || The Logo || The Purpose behind Lakota
Lakota's Index || Español

The Lakota, members of the family of the Great Sioux Nation of North America, have a very rich spirituality and a deep respect for all life, visible and invisible. The word Lakota means "considered friends" or "alliance of friends".

---

The Logo
I wanted to represent part of the Lakota's spiritual symbolism in the logo:
On the shield, Wi, Grandfather Sun, represented by the circle. With him, Wakinyan, the Winged One, the Thunderbird. Among Native Americans, the shield is not really a defense weapon, but a tool for growth: On my shield I represent my own truth, as a ritual of self-acceptance. Then I show it to you, in the hope that it may serve as a mirror and help you grow, if you so choose.

---
Above, Hanwi, the Moon, Wi's companion, lined by seven arrows representing Man's Seven Directions: North, South, East, West, Above, Below and the Self.

---
The main page's background represents Unci Maka, Grandmother Earth. The color blue represents Skan, Grandfather Sky. Thus, Above and Below are represented again.

---

The Purpose behind Lakota

There is a way of living that Native Americans call " to Walk in Beauty ".
It is said that one Walks in Beauty when one has Earth (physicality) and Sky (spirituality) in Harmony.

Lakota's intention is to Walk in Beauty.
May Wakan Tanka, the Great Mystery, enlighten our path.

Tanyan omanipi!

— Cheryl Harleston

Lakota's Index:

Lakota Wisdom || Lakota Iyapi || Lakota Ceremonies || Wounded Knee
The Wisdom Garden || The Animals' Medicine
Kids' Stuff || Health & Healing || Guestbook || Links
About Lakota || Awards || Main Page

Español

Sign our Guestbook
Design, production & maintenance of all pages in Lakota:
Cheryl Harleston © 1997 - 2006
All rights reserved. If you wish to provide access to this information, you are welcome to provide a URL link to this site. No part of this site may be reproduced or transferred to another web site without express permission. We welcome texts, articles and excerpts of books on any topic relating to the contents of this site. If we publish your text at this site, we will acknowledge you as the author and provide a link to your site.